The Springhurst Family wishes you and your family Happy Holidays.
HOLIDAY HOURS:
December 24, 2021 - Closed
December 25, 2021 - Closed
December 31, 2021 - Closed
January 1, 2021 - Closed

Boarding Update:

Our boarding facility is reopening now. We will be taking a limited number of reservations. Please call the office to schedule your reservations. We do require a $50 deposit per pet for all major boarding times (all school fall, winter, and spring breaks, all major holidays, etc.).
---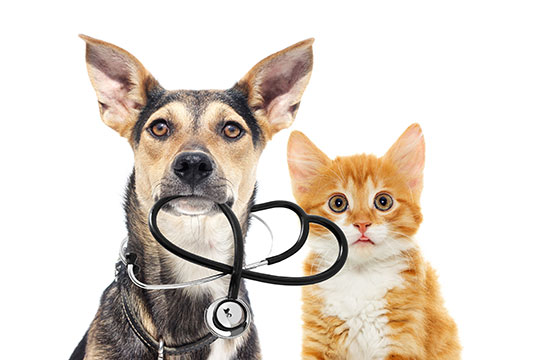 ---
We have missed you!!!

Springhurst Animal Hospital is so excited to announce that we will be allowing clients back in the building starting June 14, 2021! While we will continue to adapt to the constantly changing guidelines, our newest policy is that clients will be allowed in, with their pets, at a limited capacity. This means that only one client will be allowed in per exam. Each person who enters the building will be required to answer a few COVID related questions. All clients will be required to wear a mask. Only 2 clients are allowed in the lobby at one time. We do ask that each client maintain social distance. There will be signs throughout the lobby to accommodate this social distancing request.
Upon arrival, we ask that each client and pet remain in your vehicle, and text or call the front desk. A receptionist will collect your contact information and ask how you prefer to go about your appointment (in-person or curbside). For curbside, a technician will come out to speak with you and bring your pet inside. After a brief exam, the doctor will call you. Once treatment is done, a technician will call you and check you out, then bring your pet back to you (similar to our current protocol).
If you prefer to come into the building, a team member will send you a text message when they have the exam room ready. We ask clients use the handicamp ramp, and entering the building through the side door. You and your pet will be taken directly to an exam room, where the exam will be done with a doctor and technician. Once the exam and treatment(s) are finished, the technician will check you out directly in the room. You will then be guided through the front doors to exit the building. We ask for a one-way flow through our building.
Unfortunately, due to technician appointments being done in a common treatment area (nail trims, anal glands, laser treatments, Adequan injections, etc.), all technician appointments will still be curbside. Food and medication pickup will also continue to be curbside. If your pet is not here for an appointment and you are picking up food or medication, we ask that you please call prior to pick up to facilitate your refill and payment over the phone. All medications and food will be available for pick up on our Pick-Up Station on the front porch.
For surgery/dental, grooming/baths, and boarding check-ins, we ask that you text or call from the car when you arrive. A receptionist will collect contact information. A technician will be out shortly to complete the check-in process. The technician will go over any treatments needed and estimates of cost. They will have you complete any paperwork that is needed for the appointment. Once the paperwork is filled out, the technician will take your pet inside to prepare for their procedure. Once the treatment or surgery is completed, a doctor or technician will call you with an update and provide a pick-up time. All patients staying for day procedures will be checked out over the phone before discharge that day.
To ensure that all of our clients and staff stay as healthy and safe as possible, every exam room, the lobby, and all other areas of the hospital are disinfected and cleaned regularly. Exam rooms will be thoroughly disinfected between every appointment. All staff who are not fully vaccinated are required to wear a mask and, as stated earlier, social distancing rules will be in effect.
We look forward to seeing you all again soon!
---
Springhurst Animal Hospital
Your Veterinarian in 9909 Brownsboro Road, Louisville, KY 40241
(502) 326-2975
springhursthosp@bellsouth.net


Welcome To Springhurst Animal Hospital!
Do you have pets? Are you behind on their vaccinations? From allergy testing to therapeutic laser, Springhurst Animal Hospital is here to provide effective and reliable vet care you can depend on. Located in Louisville, KY, our team is here to serve the pets in the entire area. We understand that dealing with special diets can be time-consuming and worrisome. We're here to provide the most stress-free services imaginable. Our comfortable animal hospital has ultrasound to make sure your pet's diagnosis is accurate. Keep reading to learn more about our team, the services we provide, and why you should contact us to make an appointment.
The Vet Team in Louisville
Dr. Lee Hankins is our founder and managing partner at Springhurst Animal Hospital. In fact, Dr. Hankins has been treating pets at our animal hospital since 1999. Our vet received his undergraduate degree at Western Kentucky University, and then went on to obtain his Veterinary Medicine degree from Tuskegee University. After these academic accomplishments, Dr. Hankins moved back to Kentucky to complete his dream of owning his own practice. Thanks to our veterinarian's passion and dedication to animals, we have been serving the community for more than 18 years.
Springhurst Animal Hospital is also proud to have a few other veterinarians who support Dr. Lee Hankins. These amazing pet experts include Dr. Sherri L. Stello and Dr. Lisa Keehner. Our exceptional veterinarians and team members help our animal hospital to thrive into being one of the best places for animal care in the entire area.
Veterinary Services
While it's important to work with caring and qualified team members when it comes to veterinary care, it's also important to choose a vet hospital that offers plenty of services. Some of our services include:
Emergency Care
When emergencies strike, it's vital to have your pet in the best hands possible. Our team is fully-trained and certified to handle pet emergencies, and we excel at solving a wide variety of urgent health concerns. From broken bones to heatstroke, we can ensure your animal is in good hands with us.
Pet Grooming
From improving the look of your pet to limiting the chances of ticks, pet grooming is crucial. Springhurst Animal Hospital is happy to have a pet groomer on staff five days a week for your specific needs. Our grooming services are also comfortable for your furry friend, and we can usually have your pet groomed on the same day you drop them off!
Other services include:
Professional and Dedicated Veterinarians in Louisville
From our caring vet team to our long list of services, you can depend on our Louisville veterinarians at Springhurst Animal Hospital for all of your pet's needs. To schedule a vet appointment with our dedicated and professional staff members, call or text us at (502)326-2975.