Dr Lee Hankins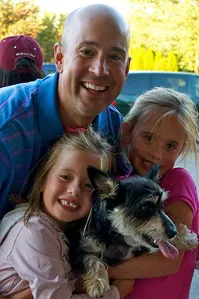 As founding veterinarian and now the medical director, Dr. Hankins has been treating pets at Springhurst Animal Hospital since 1999. He attended Western Kentucky University for his undergraduate work and then obtained his degree in Veterinary Medicine from Tuskegee University. Dr. Hankins returned to Kentucky to begin his career as a veterinarian and accomplish his dream of establishing his own practice.
Thanks to his unending compassion for all animals, Springhurst Animal Hospital has celebrated 22 strong years of success and continued growth.
When not working, Dr. Hankins enjoys spending time with his family and his own pets. He enjoys traveling, golf, tennis, and anything pertaining to the equine industry.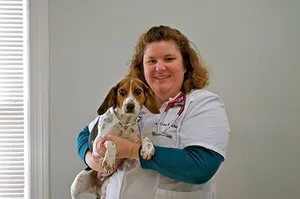 Dr. Keener has been practicing veterinary medicine since 2000 after graduation from Iowa State University. She completed a rotating internship in San Diego, California, before moving to Memphis, Tennessee. She arrived in Louisville in 2002 for a residency in Emergency and Critical Medicine at LVSES, now Blue Pearl. She stayed on as a senior clinician until joining Springhurst Animal Hospital. She is a graduate of the International Veterinary Acupuncture Society, a certified veterinary rehabilitation therapist, has studied with the International Veterinary Academy of Pain Management, and is a certified Free-Free veterinarian.
Dr. Keehner focuses on dogs and cats who need pain management. She uses a combination of weight management, medication, physical therapy, laser therapy, and acupuncture. She is also proficient in ultrasound.
Dr. Keehner enjoys time with her daughter, husband, 4 dogs, three cats, 2 donkeys, chickens, and goats. She enjoys volunteering with the local veterinary medical association as well as at her daughter's school.
---
Meghan Ryckeley
Dr. Ryckeley is from Gallatin, TN and did her undergraduate studies at Western Kentucky University, where she earned degrees in Biology and Religious Studies. She then moved to Knoxville and went to veterinary school at the University of Tennessee. She is a Fear-Free certified veterinarian. She has lived in Louisville since 2021 with her boyfriend, 2 snakes (Persephone and Osiris), and 2 cats (Lailah and Dr. Pepper). She has a special interest in exotic animal medicine and loves seeing all manner of birds, reptiles, and small mammals. In her free time, she enjoys cooking, baking, watching anime, playing video games, and knitting.
---
Dr. Huffman comes to us from Greenville, South Carolina. She attended Clemson University, earning a bachelor's degree in Animal and Veterinary Sciences in 2016. She then went on to attend the University of Georgia's College of Veterinary Medicine, earning her degree in 2021. Her professional interests include preventative care, dentistry, and nutrition. She is Fear-Free Certified and is so excited to meet your fuzzy family members! In her free time, Dr. Huffman loves spending time with her husband, two dogs (Bagel and Lox), cat (Duke Silver), and tortoise (Tortellini). She enjoys watching Netflix, creating art, traveling, and visiting museums / aquariums / zoos.
---
Management

Mary
Mary Rauch, our Practice Manager, was born and raised in Louisville, Kentucky. She has been in the veterinary industry now for over 20 years and joined Springhurst Animal Hospital in 2006. She earned her Bachelors of Science in Biology, from the University of Louisville, with a focus in Animal Behavior and Ecology. Mary has two Weimaraner recues, Layla and Sophi, and a Russian Tortoise, Natasha. Her hobbies include reading, camping, and hiking with her family.
---
Reception
Chirlela
Deb
Patient Care Specialist
---
Naomy
Naomy joined Springhurst Animal Hospital in 2016. The secret to life is doing what you love, and Naomy is doing just that! She loves her job as a Certified Veterinary Technician because she gives all animals the love and care they deserve. Shortly after graduating high school in California, Naomy moved to Louisville to pursue a career she had once dreamed of. She received her associate's degree of Applied Science in Veterinary Technology in March 2016. Naomy is passionate about her job, speaks fluent Spanish, and enjoys the rewarding satisfaction of helping all animals. Her heart belongs to her fur babies at home; Copper the Basset/Beagle and Cali the Pit Bull mix.
---
Shelby
Shelby has been at Springhurst Animal Hospital since 2008. She started as a Kennel Assistant and transitioned into a Veterinary Technician. Shelby has a labradoodle named Lucy and a chocolate lab named Pippa. In her spare time, she enjoys playing tennis.
---
Ashley

Ashley was born and raised in Louisville, Kentucky. She joined our team as a Veterinary Technician, in February 2017. She truly loves working in the animal industry and has over seven years of experience in the field. In her spare time, she enjoys spending time with her family, friends, and relaxing with her fur babies.
---
Erin
Mariel
---
Casey

Hi my name is Casey! I've been here at Springhurst since 2018. I love learning about each individual pup and cat that enter our boarding facility. I'm currently finishing my associates and hope to continue my education to better take of all our fur friends!
Patient Care Assistants
---
Sarah

My name is Sarah and I have been working at Springhurst for 2 years now as a Kennel Tech. I am a senior at U of L studying Geography with a minor in Public Health. I have one dog, one cat and a horse that I competitively ride in shows. My favorite thing to do outside of work is travel to the U.S. National Parks and enjoy all the things nature has to offer!
SaveSave
---
Kailey
Abbot
Julian
Kelsey
Campbell